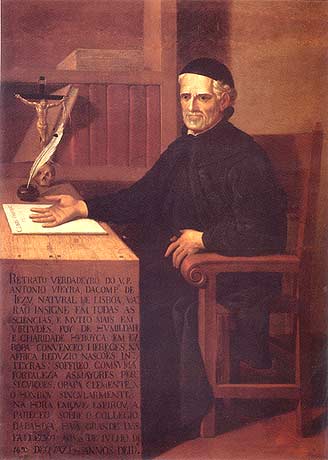 Father António Vieira – 400 years
Father António Vieira, an outstanding figure in the history of 17th Century Portugal, was born in Lisbon on the 6th of February 1608, 400 years ago.
Vieira chose a religious life when he was only 15 years old. He joined the Company of Jesus (also known as the Jesuit order) in Brazil, to where his family had migrated in his early childhood. Soon his religious fervour and his profound application to studies became evident.
His strong and charismatic personality, his inspired sermons and the strength with which he defended his causes led him the admiration and respect of kings and popes. Unfortunately it also brought him the profound hate of some nobleman, clergy and later the Inquisition.
Being a man of strong convictions he persisted in his cause – the protection of the Indian and African slaves, and the restoration of Portugal's past glory – even when his social status and physical integrity where at risk.
He is also known for his many works of prophetical nature, like "A História do Futuro" (The Future's History) and the famous concept of The Fifth Empire, so characteristic of Portuguese mysticism.
In this context Vieira was also an avid student of Astrology, making several astrological references in his writings, letters and sermons.
As far as we know there are no records of Vieira's time of birth. Given his interest in Astrology is most likely that he himself had calculated his horoscope, but this study – if it exists still – was not yet located.
Without the Ascendant or the astrological houses it is not possible to cast a true astrological chart. Any astrological study is limited to the list of planetary positions for 12 o'clock on the day of his birth. This way we obtain an average position for each planet, particularly for the Moon, which being the fastest heavenly body can travel about 13º in 24h.
Despite these limitations it is possible to apply some traditional techniques in order to obtain a partial view of Vieira's personality and behaviour.
One of the most noticeable planetary configurations is the Mercury-Saturn conjunction in Capricorn. Saturn is in a position of great strength being in his domain and also in its own term. This conjunction gave António Vieira a natural aptitude towards study and investigation and made him a "lover of justice, unbending and of profound counsel", as the Tradition puts it. The power of Saturn is indicative of an independent personality, an individualist. It's placement in the sign of Capricorn signifies someone ambitious and passionate in his actions.
Adding to this more independent and profound drive derived from the element Earth, is the feverous idealism conferred by the exact trine between Jupiter in Aries and Mars in Sagittarius. This trine is further emphasised by the mutual reception between the two planets which gave Vieira the "spirit of a crusade", leading him to be the defender of the Indian's rights, of the Jewish people and of the slaves.
From our part here is a small tribute to this great figure of the Portuguese culture.